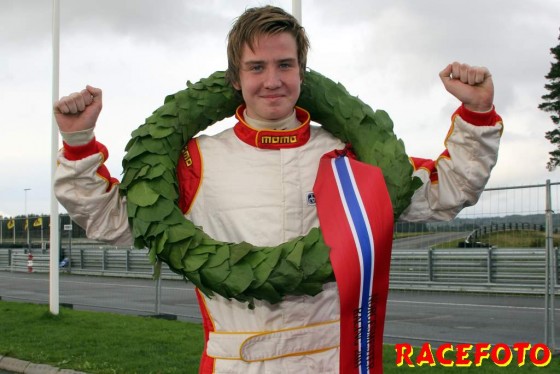 Nu är det klart att Henrik Furuseth åker över till Amerika och kör en formelbilsserie där, se pressrelease nedan:
St. Petersburg, FL – Cape Motorsports with Wayne Taylor Racing recently came to an agreement with 15-year-old Henrik Furuseth to compete in the USF2000 National Class Championship. Furuseth hails from Norway, but quickly set his sights on racing in North America following an impressive test with Cape Motorsports last September.
Cape Motorsports has a long history of producing superstars in racing, and comes off 2011 as the reigning Championship Class winners. 2012 will mark their first foray into the National Class, and team owner Dominic Cape is happy to have secured the Norwegian on his National Class squad.
"We are extremely excited to have Henrik as part of our assault on the USF2000 Championships," said Cape. "Henrik tested with us in 2011 as part of ABK and was on the pace immediately. The National class is utilizing the SCCA FE car and regulations and is the perfect platform for the young guns of tomorrow to learn their trade on the first rung of the Mazda Road to Indy ladder."Furuseth comes off a championship-winning season having dominated the Norwegian Formula Basic Championship. Thanks to a scholarship from the Norwegian Auto Sport Association, he was able to fly stateside to learn more about the Mazda Road to Indy, test a USF2000 car and take part in a training camp put on by ABK Sports Management. Furuseth is now part of the ABK program, which is co-owned by fellow Norwegian and Mazda Road to Indy graduate Anders Krohn.
Furuseth is excited about the opportunity at hand, but knows that staying humble will be a key to his first season of pro-racing. 
"I am so grateful for this opportunity, and will do my very best to make this a successful season with Cape Motorsports," said Furuseth. "This is my dream come true." 
The first two races of the USF2000 National Class Championship will be held at Sebring International Raceway on March 15 and 16. Just a week later, Furuseth will be making his street circuit debut at the Grand Prix of St. Petersburg.