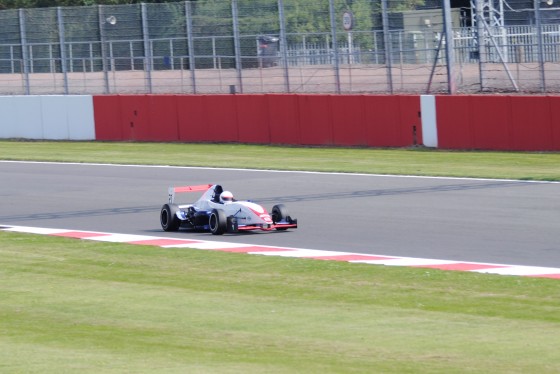 I forrige uke tok jeg turen til Silverstone i England for min første test frem mot løpet i Formula Renault BARC serien den 6. Oktober. Jeg tilbringte første mange timer med avansert simulator-trening hos iZone Performance, som gav meg en maksimal forberedelse til selve testen som var på Fredag.
Matchet topp-tidene
Etter å ha støpt sete og tilpasset dette på Torsdag var alt klart for en dag med masse kjøring på Silverstone National på Fredagen. Det var en utrolig opplevelse å kjøre på en stor internasjonal bane som Silverstone i en Formula Renault 2.0 for et profesjonelt team. Etter en god oppvarming, og med full konsentrasjon var jeg klar for å kjøre ut av pit-garasjen, å ta et stort steg i fremover i karrieren. Det tok ikke lange tiden før jeg følte meg hjemme, og på slutten av dagen matchet jeg tidene til Formula Renault BARC toppfører Seb Morris! Både jeg og teamet var fornøyde med dagen, og ser nå fremover til neste test 10. August, hvor vi håper å være enda raskere.
Kommentar fra team-sjefen i SWB Motorsport, Simon Baldry:
"We were very pleased with Tommy on his first time in the car driving for the team. His experience in the Formula Basic shone brightly as he got to grips with the car very quickly, thoroughly enjoying the extra grip that a car with aero gives.
We were there on a very busy test day and he dealt well with all the traffic. In the afternoon sessions, Tommy came along further in his development and ended the day posting a time the same as current BARC Formula Renault front runner Seb Morris who has already won several races and had pole postions this year.
I am so pleased to have Tommy on the team. It's really nice to have someone come from cars rather than from karts. He is already showing strong signs of having good pace in the car and his racecraft is obviously very good already coming from the Basic championship.
Overall, a good understanding of the car which is still developing and a want to win are two fantastic things to come from someone as young as Tommy.
We look forward to having him back in the car in August and then for the race in October."
Jeg vil takke IT-selskapet Marcello som har gitt meg denne store, lærerike muligheten, og iZone Performance og teamet SWB Motorsport for en fantastisk innsats under oppholdet.
Vennlig hilsen
Tommy Østgaard -
+ 47 41515350
www.tommyostgaard.com